Ready to start yoga for women's health?

$200
Sign up for only $160
If you're a health-conscious woman looking to reduce stress and anxiety in 8 weeks, both on and off the yoga mat, so that you can be your true self for your kids, family, and loved ones, then this is the perfect course for you!
In recent years, the stress levels of women have significantly increased, and women's bodies and minds struggle to cope with all that stress. That's why I've designed this course specifically for women, to teach you techniques to manage stress in your daily life.
We'll discuss how stress affects women's health including infertility, menstrual problems, hormonal issues, and low libido. We'll also cover stress reactions, coping strategies, and teach you breathwork and relaxation techniques such as Yoga Nidra to alleviate stress.
During the yoga course you will:
Target the yoga practice to work on the most common stress-accumulation areas of the female body
Address hormonal imbalance and reduce stress hormones in a female body
Work on finding your inner balance
Learn to relax with different relaxation techniques (including Yoga Nidra)
Do pelvic floor muscle exercises
Every session will incorporate pelvic floor muscle exercises to relax and strengthen the pelvic floor and diaphragm muscles.
Each yoga session will focus on specific yoga asanas that align with the weekly topic, building upon each other week by week to allow for continuous improvement. We'll also discuss the weekly topic and its relevance to the practice. After each session, you'll receive a written summary to deepen the weekly topic and a description or instructional video of the stress-relieving techniques practiced during the session. This will allow you to take what you've learned on the yoga mat and apply it in your everyday life.
This yoga course will teach you how to:
Manage stress in your daily life through yoga practice, meditation, relaxation and breathwork
Find a stress relief technique that works best for you – by trying out different relaxation, meditation and breathwork techniques
Understand the impact of stress on women's health, including menstrual problems, hormonal issues, PCOS and infertility
Find your inner balance and reduce stress hormones in your body
Relax with different relaxation techniques (including Yoga Nidra)
Strengthen and relax your pelvic floor and diaphragm muscles with targeted exercises
Who is this yoga course suitable for:
Beginners who have never done yoga before
Those who have some experience in yoga or are true yogis
Women who struggle with PMS, PCOS, fibroids or thyroid issues
Those who suffer from back pain, tight hips, high blood pressure or fibromyalgia
Women aged 18-65 and up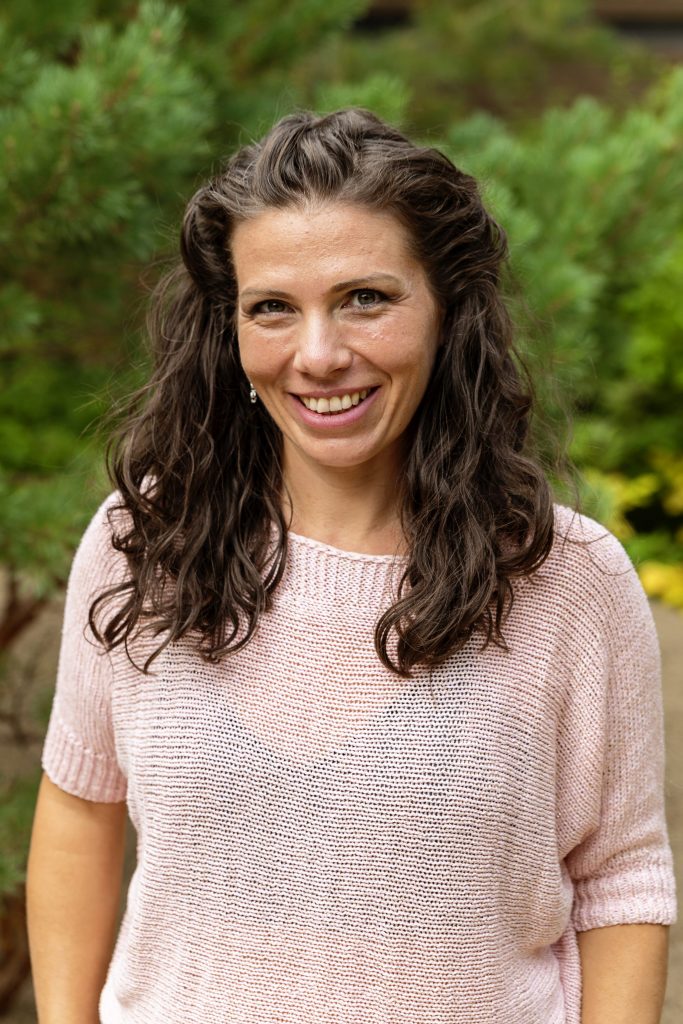 Why Do yoga with Tina
---
Tina is a yoga mentor and the creator of Karmaburn Yoga.
She helps health-conscious women to elevate their physical and mental health with yoga, meditation, relaxation and breathwork. She has guided hundreds of women and taught them how to calm the busy mind and ease anxiety on the yoga mat and off it.
Yoga has been a part of her life for more than 15 years. She has been teaching in-person and online yoga classes and courses in Canada, Hungary and Serbia.
She received her international Yoga Alliance certification in Hungary. She teaches a specialty type of Karmaburn Yoga, which has been designed towards women with the aim to aid women's physical and mental health. Karmaburn Yoga is based on traditional Hatha Yoga and Raja Yoga – a modified version of traditional yoga by consulting gynecologists to aid women's health. Tina has training in prenatal and postnatal yoga as well.
Details of the Yoga Course:
Start: choose from 3 available dates:
Group 1: Tuesdays 10-11AM, starting April 18
Group 2: Wednesdays 5:30-6:30PM starting April 19
Group 3: Thursdays 7-8PM, starting April 20
Runs for 8 weeks.
This yoga program is designed to be effective even if you attend only once a week, enabling you to make consistent progress over time.
$200 sign up for only $160
Payment options:
Online payment or Etransfer to karmaburnyoga@gmail.com or Cash
Feel free to email karmaburnyoga@gmail.com with any questions!
Frequently Asked Questions
What payment options are available?
I accept online payment, e-transfer to karmaburnyoga@gmail.com and cash.
I'm not fit nor flexible. Can I do yoga?
Definitely! The yoga classes and workshops that I lead do not require a particular level of fitness. It doesn't matter if you're a sedentary individual or a professional athlete; yoga can be beneficial to anyone. Practicing yoga can promote physical confidence and improve your general well-being.
What should I bring to a yoga class?
Just bring yourself, in comfortable clothing and consider bringing a small bottle of water. There are yoga mats available at the studio, but feel free to bring your own.
Where are you located?
Tuesday classes are held at 810 Central Ave, Saskatoon, Intrinsic Lotus Studio #130 (free parking available behind building).
Currently there is low interest for the Wednesday and Thursday evening classes, so I'll be switching to running them at a smaller studio space located at 1260 Baltzan Blvd, unit 120.