🌸 Discover Hormonal Harmony: Join the 8-Week Yoga Journey for Women's Health 🌸

Sign up for $200
Ready to start your journey towards hormonal balance, vibrant health, and step into your feminine power? My carefully crafted 8-week yoga course is designed to empower women of all backgrounds, from beginners taking their first steps on the yoga mat to experienced yogis seeking to deepen their practice and find specific relief.
🌸 Why Hormonal Balance Matters 🌸
Hormones play a pivotal role in our overall well-being, influencing our mood, energy levels, and even our sense of self. Fluctuations can lead to a range of challenges – from irregular cycles and stubborn weight gain to mood swings and stress. My approach to yoga focuses on nurturing hormonal balance, leading to increased vitality, enhanced emotional resilience, and a renewed sense of purpose.
🌟 What This Course Offers 🌟
🧘 Expert-Led Yoga Sessions: Led by Tina Marki, who specializes in women's health, the yoga sessions are carefully crafted to target hormonal imbalances in women. You'll learn gentle yet powerful poses that stimulate specific glands, promoting hormonal equilibrium.
🧠 Mindfulness and Stress Management: Stress can disrupt hormonal balance. The yoga course includes mindfulness practices and stress management techniques that empower you to find tranquility amidst life's challenges.
🌺 Community Support: Join a community of like-minded women. Share experiences, exchange advice, and celebrate each other's successes as you move towards hormonal harmony.
📅 Course Details 📅
🗓️ Start Date: choose from 2 available dates:
Group 1: Tuesdays 6-7M, starting September 26th (no class Oct 31st)
Group 2: Wednesdays 10-11AM starting September 27th
⏰ Duration: 8 weeks
📍 Location: 810 Central Ave, Saskatoon
🌈 Investment in You 🌈
Invest in yourself and your well-being:
Early Bird Special: $160 (until September 5th)
Regular Price: $200
Spaces are limited, so secure your spot today!
🌸 Join me on this Empowering Journey 🌸
Take the first step towards a life filled with balance and vitality. Let my 8-week yoga course for women's hormonal balance be your guide. Embrace the transformative power of yoga, nourish your body, and cultivate inner harmony. Register now and gift yourself the health and well-being you truly deserve.
Who is this yoga course suitable for:
Beginners who've never done yoga before and experienced yogis
Women aged 18-65 and up
If you suffer from back pain, tight hips, high blood pressure or fibromyalgia
If you are struggling with the following conditions, this yoga course is for you!
Irregular periods, period pain, PMS (Premenstrual syndrome)
Living with symptoms of perimenopause or menopause: hot flashes, sleep problems, night sweats, mood changes, irritability, headaches, etc.
PCOS (Polycystic ovary syndrome)
Decreased libido
Ovarian cysts, fibroids, polyps
Thyroid issues
Pelvic floor issues: urinary urgency, incontinence, constipation, prolapse
Infertility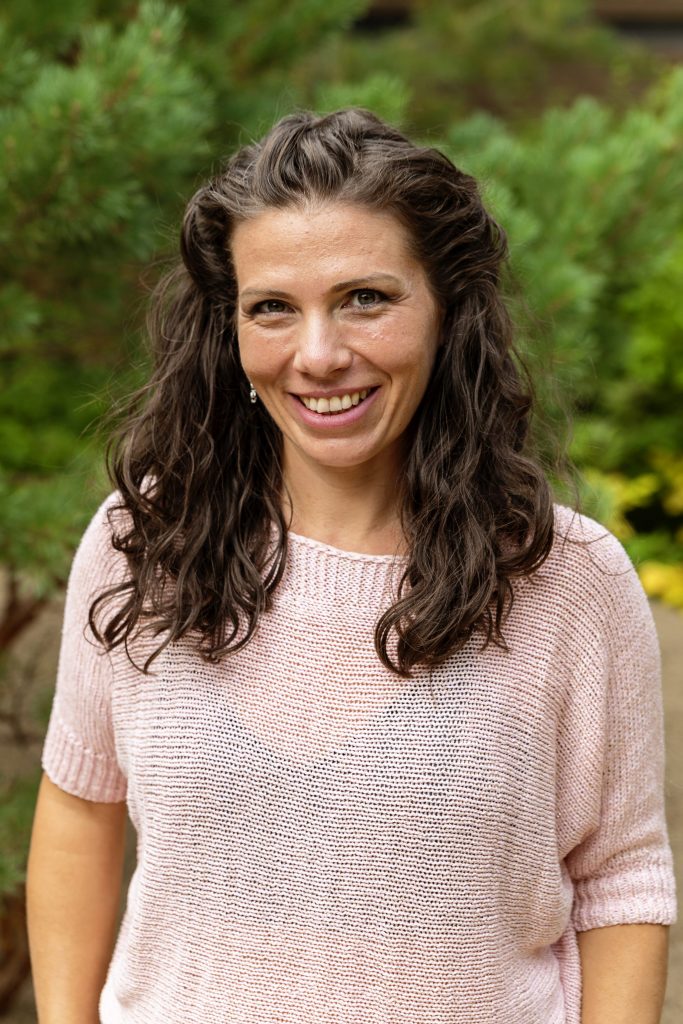 Why Do yoga with Tina
---
Tina is a yoga mentor and the creator of Karmaburn Yoga.
She helps health-conscious women to elevate their physical and mental health with yoga, meditation, relaxation and breathwork. She has guided hundreds of women and taught them how to calm the busy mind and ease anxiety on the yoga mat and off it.
Yoga has been a part of her life for more than 15 years. She has been teaching in-person and online yoga classes and courses in Canada, Hungary and Serbia.
She received her international Yoga Alliance certification in Hungary. She teaches a specialty type of Karmaburn Yoga, which has been designed towards women with the aim to aid women's physical and mental health. Karmaburn Yoga is based on traditional Hatha Yoga and Raja Yoga – a modified version of traditional yoga by consulting gynecologists to aid women's health. Tina has training in prenatal and postnatal yoga as well.
This yoga program is designed to be effective even if you attend only once a week, enabling you to make consistent progress over time.
Every session will incorporate pelvic floor muscle exercises to relax and strengthen the pelvic floor and diaphragm muscles.
Payment options:
Online payment or Etransfer to karmaburnyoga@gmail.com or Cash
Feel free to email karmaburnyoga@gmail.com with any questions!
Frequently Asked Questions
What payment options are available?
I accept online payment, e-transfer to karmaburnyoga@gmail.com and cash.
I'm not fit nor flexible. Can I do yoga?
Definitely! The yoga classes and workshops that I lead do not require a particular level of fitness. It doesn't matter if you're a sedentary individual or a professional athlete; yoga can be beneficial to anyone. Practicing yoga can promote physical confidence and improve your general well-being.
What should I bring to a yoga class?
Just bring yourself, in comfortable clothing and consider bringing a small bottle of water. There are yoga mats available at the studio, but feel free to bring your own.
Where are you located?
Tuesday classes are held at 810 Central Ave, Saskatoon, Intrinsic Lotus Studio #130 (free parking available behind building).
Currently there is low interest for the Wednesday and Thursday evening classes, so I'll be switching to running them at a smaller studio space located at 1260 Baltzan Blvd, unit 120.